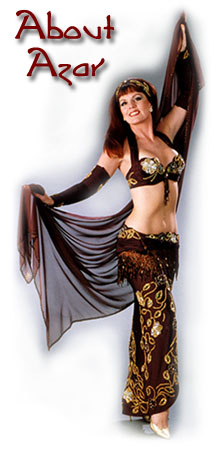 "Improvisation is not
the expression of accident
but rather of the accumulated yearnings, dreams, and wisdom
of our very soul."
-Yehudi Menuhin
Azar graduated from San Francisco State University where she earned a Bachelor of Arts degree. She studied acting at The American Conservatory Theater and Ballet with the San Francisco Ballet. As a member of a folk troupe from SFSU, Azar became very interested in Mid-Eastern dance. She has studied with many accomplished teachers from San Francisco, Los Angeles, New York, and the Mid-East.
She has an extensive background in comparative religion, dramatic arts, dance, and art, and is as experienced in teaching as she is in performing. Her interest and appreciation for dance from other cultures has taken her to Egypt, Greece, East Africa, Chile, Peru, Bolivia and most recently to Morocco and Turkey.
Azar has taught numerous workshops across the country, and has dedicated herself to bringing belly dance to all age groups - preschool through senior. Azar created Stanford University's successful "Belly Dance for Exercise" class and was selected by the International Academy of Middle Eastern Dance (IAMED) to perform on their video, "The Fifth Awards of Belly Dance". Azar taught belly dance at Folsom Lake College as an adjunct faculty member of the Dance Department.
In addition to seminars, and teaching and performing Belly Dancing, Azar has done acting roles on stage and television. She has been seen on daytime dramas such as General Hospital and the Young and the Restless as well as several national commercials.
After years of full-time teaching and performing, Azar has semi-retired to spend more time with her husband traveling and sailing in the Caribbean. Azar currently resides in Safety Harbor, Florida.

For a nice article on Azar, review the
San Francisco Chronicle archives Sunday, August 19, 2001.
For a review of Azar's instructional DVD, Azar's Belly Dance Workout Level I, check the online magazine

www.gildedserpent.com and

The Chronicles Magazine volume 4, issue 4.


To contact Azar: 916.847.5497 or azar@mysticsun.com